Check out our new items on this page. Email Master Sanders with any questions on products or services at willsanders@earthlink.net.
We Have a Brand New Book on the INTERNAL SIDE of SAN MICHELE

Benedicaria's Angelic Connection to the Sicilian-Italian
Knife Fighting Art of San Michele with Seven Archangels
---
New DVDs

- The Internal Care and Balancing of the Keris on the Circle of Creation DVD
- Movements of PCPS American Pencak Silat DVD
-The San Michele Sub-Hilt Fighter DVD

- Carrying the Knife - Knife Deployment and Camouflage Knife Moving DVD
- The Seven Dexterity Knife Drills of San Michele DVD
---
New! San Michele Sub-Hilt Fighter Knife
---
New! The Muletto in San Michele DVD

DVD on the the use of the long blade, the muletto in San Michele. This video is the first video that covers the in depth use of the muletto. Covered are unique wrist development exercises to make the fast cuts of the blade, grips, special seven cut drill of the muletto. The use of the basic seven cuts in motion and patterns, fighting postures, sparring drills, with and without a partner, a must for all students of san michele.




---

New! PCPS Tonjok Berang Mini Combat Axe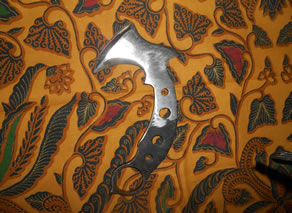 There are a million karambits for sale but this has a real and usable axe head chopper and point on the ring end for muscle and nerve strikes.

---

New Book! Pukulan Cimande Pusaka Sanders: Highlights of The Art
Here is my new book "Pukulan Cimande Pusaka Sanders: Highlights of The Art," by William Sanders. It includes all the new updates of the internal portions and the animals, Kicking Jurus, Sera Depok, Seated Jurus and more.

Available now on Lulu Press. Click on this link to order:

http://www.lulu.com/shop/william-sanders/pukulan-cimande-pusaka-sanders-highlights-of-the-art/paperback/product-22479494.html
---
2016 San Michele Comprehensive Seminar Shot in Brazil (2016)
This is a full three hours of instruction. I covered an amazing amount of material, and much of it never shown before like the Sumpa attacks etc. Each item has a good camera angle of me doing it, no wasted time watching students practice. This one is more as really its as long as 3 of the other DVDs. $70 plus $5 postage in the USA .
---
First DVD of San Michele Seminar Brazil (2015)
Here is the long awaited in depth two day seminar DVD, I recently did in Brazil, covering so many aspects of SM including things not on any previous DVD. This is close to 160 minutes in length as it was 8, 20 minutes segments put together. Send $65 (Includes postage).




---
Pictures from the induction of Pendekar William Sanders, in the 8th Annual World Pugilist Hall of Fame Awards, in Laredo, Texas.
---


New Service

I want to announce I am offering a new service. This is for a private in depth evaluation of ANY PCP subject in the physical aspects YOU choose. When I make a little comment on a face book video, like add a kick etc , its VERY superficial. I could comment on MANY more things. So, IF you are a registered student of mine and want an in depth review and correct on foot work, snake, knife disarms etc, pick ONE subject, make me a video no more than 45 minutes long. Send me $50 for the evaluation and I will dissect it all for you point by point. ONE topic per video, it can be one animal, or Sera Depok, Tonjok Berang etc etc.

This will GREATLY benefit ALL serious students and YOU get to pick the topic. Just send the fee to cimande@cimande.com with paypal and send me a link to the private youtube video and let the classes begin.

So NOW no excuses there is no seminar, you have no time to come see me. if your serious about PCP let us get to improving you !!! I am also offering this service for SAN MICHELE AND THE IRISH STICK . SAME RULES SAME PRICE. One topic, as in The Circle of the Sun in San Michele, Basic strikes in the Irish Stick, or foot work.

New DVD for All Students

Announcing a brand new DVD for all P.C.P.S. practioners. This new DVD is entitled: "The proper use of the body and breath in P.C.P.S." This DVD goes into detail on how to use the entire body, in the proper way, along with the breath to execute all of the techniques and animal mannerisms in superior fashion and elaborates on the unique PCPS way to move and deliver blows we are known for. The upper and lower body is covered along with naturally delivering your strikes , taking strikes , new training drills and much more. This is a long DVD , over an hour and a half of detailed information. This is the first video all new students should see, right after they watch the free visions DVD. Then watch the 11 principles, followed by the mama seated jurus and the keys to the seated jurus to get you started. All other students need to get this new dvd now to greatly improve your art . Price is $40.

---

New DVD 2014 "The Proper Use of The Body and Breath in PCPS"



New! Beladau Review

New! Beladau DVD
New Kujang "Special Edition" for Sale


See the brand new picture of the new kujang in the weapons for sale section
New! Throwing Blades
New! San Michele Throwing Knives DVD